Norfolk Youth Basketball League
Officiate
The NYBL aims to support the development of newly qualified, lapsed and existing Table Official and Referees, and recognises the essential and integral part they play in our game.
---
Registration
To register as a Table Official or Referee for NYBL fixtures complete the Table Official & Referee Registration form.
All match officials must have completed a Basketball England Table Official or Referee course and must be registered with Basketball England before officiating any NYBL fixture, this includes newly qualified officials looking to complete their practical assessments.
---
Table Official & Referee Pathway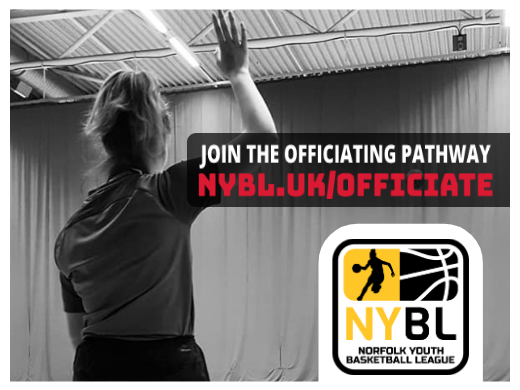 The pathway is designed to provide Referees and Table Officials with a safe and welcoming environment in which to develop their skills and earn valuable game experience.
The NYBL officiating pathway starts with the youngest age group competition (currently U11) and progresses through to U18. As officials undertake fixtures they will be mentored by senior referees and receive feedback and advice from the NYBL League Office before progressing to the next age group.
NYBL Assessors and clubs may provide officiating and match feedback via the Match & Officiating Feedback form. The NYBL League Office will evaluate feedback forms for development purposes and provide support and feedback where appropriate.
As officials climb the age groups they will be rewarded with higher payments before being recommended for senior league appointments.
For further information on officials' fees refer to the League Rules.
Become an Official
If you are interested in qualifying as a Referee or Table Official visit the Basketball England website to find a course near you.
---
NYBL Officials 2021-22
The table below lists Referees and Table Officials actively registered for the current season.
The Officials listed below were correct as at the time of registration. Individuals are responsible for keeping their own details up to date by informing the NYBL of any changes. To register yourself on this list please complete the Table Official & Referee Registration form at the top of this page.
| Referee | Table Official | Name |
| --- | --- | --- |
| | | |
Social, News & Weather
Facebook
Never miss an update
Follow the site to get the latest news and results straight to your email